Real estate SEO: The best guide to learn
If you are a REALTOR or a local brokerage, getting traffic to your website from is more crucial today than ever before.  With the internet playing such a crucial role in the real estate transaction in 2018, not having your website found for commonly searched real estate terms means you are missing out on a ton of traffic, which converts to leads, which convert to sales. Unfortunately, many REALTORS do not know what is needed to organically rank their website.
The truth is over 90% of buyers start their Real Estate search online. That makes your Real Estate SEO and Marketing strategy a top priority. Nearly all user enquiries come through organic search and not paid advertising in Google and other similar advertising platforms.
Simply put, higher rankings can translate into higher sales. But, the Real Estate market can be a complicated industry to promote online.
Real Estate SEO and Marketing is more complex than other forms online marketing for a number of reasons.
Real Estate websites tend to be large and complex due to the high level of functionality and searchability required to meet the needs of your site visitors.
I'm going to break down the things you need to consider for your own real estate website's SEO — so that you can fall among the few who actually show up to searchers.
I will cover the basic steps for ranking a real estate website using real estate SEO best practices.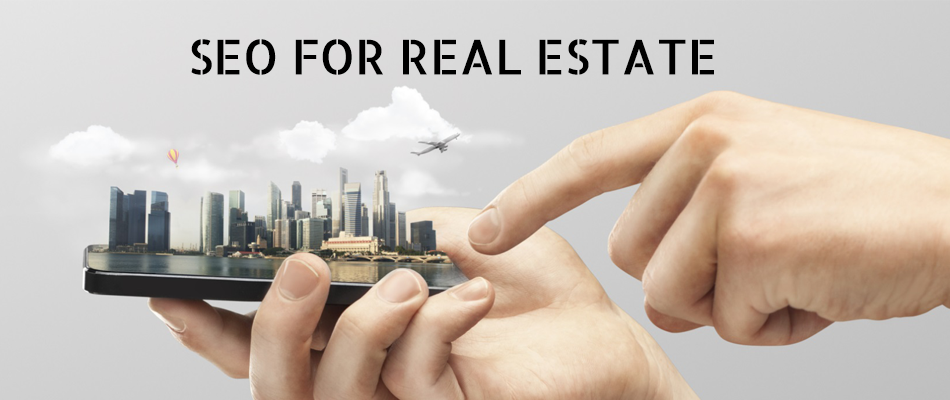 Site Description
Your site description will also appear in search engines. It does not carry as much weight as your site title but it does play a bigger role in your site ranking than your meta-keywords. Some SEO experts would argue that this section does not influence SEO at all but it's better to be safe and add them just the same. Write your description accurately speaking to your audience detaling who you are and make sure you lead with your most important keyword phrase or phrases.
Page Title
Your page "Title" will appear in search engines and also at the top of web browser windows. Within search engine results, it is the first description your potential website visitors will see. It's one of the easiest ways to climb the ranks in search engine placement and should not be underestimated. Try to include your top key word phrase and stay within 7-10 words. Adding too many words to a page title will diminish your keyword density within the title itself making it harder for your main keyword phrase or phrases to be indexed properly by the major search engines.
We will now look at a few good examples and a few bad examples if you are a Realtor selling real estate in Bethesda, Maryland.
Good Examples of a Title:

Bethesda MD

Real Estate

Homes for Sale in Bethesda Maryland

Real Estate in Bethesda Maryland

Bad Examples of a Title:

123 Realty – We are Your Source for Finding

Homes for Sale in Bethesda, MD

.
A Full Service Real Estate Company with the Expertise to Find You a

Home in Bethesda, Maryland

.
Real Estate, Realtors, Buying, Selling, Renting, Houses for Sale, Maryland, Bethesda, Surrounding Areas.
The good examples are short and to the point and do not include extra words such as "we are your" and "with the expertise to find you". A good rule to follow is to not use any extra words that are not a part of your main keyword phrase. It's okay to list your company name at the end of the title but keep it short. The most important keyword phrase or phrases should be at the beginning of your site title. Do not use any special characters including commas.
Remember to create keyword phrases that are more specific and are directly related to what you are selling and your demographic.
Have a look below at the Google search results for the query "Bethesda Maryland homes for sale". You will see on the first page of the search results, the companies who are ranked highest have excellent site titles.
http://www.google.com/searchexample
Meta-Keywords
Your meta-keywords will have little to no influence in your website's search engine rankings. When the internet was still in its infancy stage, this was the most obvious way to climb search engine rankings and it worked. But this is no longer relevant as search engines now use very advanced algorithms to scan and index websites. You can still add meta-keywords, but don't be fooled into thinking that this is the ticket to the top.
Other Technical Factors
The technical factors that we are going to focus on are:
Existing H1/H2
HTTPS
TLD Rankings
Site Speed
URL Length
Mobile Responsiveness
Technical factors remain an extremely important prerequisite to ranking a webpage. Even if the content is extremely relevant to the user, it is very difficult to achieve a top ranking in Google if the page is not easily accessible, easy to read, and technically optimized.
Do Keyword Research with Your Customers in Mind
To make your potential buyers find YOUR website online rather than the listings of your competitors, you should offer what they are really looking for. What words and phrases are they using when doing a search on Google or using a voice assistant? What's their search intent? Are they ready to buy or rent? Or, rather looking for general information or legal advice?
In the era of mobile search and voice assistants, long-tail phrases, local queries and question-like queries become more and more popular, so why not take advantage of this trend?
When doing in-depth keyword research, you can gather keywords using the following keyword research tactics:
Get keyword suggestions from Google. Use Google Search Autocomplete by typing real estate related terms and Google will automatically show a clue to all the related keywords phrases. Once you've entered a real estate related phrase, go down to the bottom of the search results page and you will get additional search query suggestions.
Spy on your competitors, especially on those who have better ranking positions than you.
Build a list of long-tail keywords using local real estate keywords. This will help you rank higher in local search in comparison with national search.
Common Keyword Research Suggestions for Real Estate
For many SEO companies, real estate keywords are very easy.  Its simply *your city* real estate or *your city* homes for sale.  In many instances, these can be the most searched key phrases, but are not necessarily what keywords you should be going after.  Real Estate SEO experts will look for the best keywords to convert and even use latent semantic keywords. Keyword research for real estate should include not only the obvious, but every deviation of those keywords included.  For instance, *your city* homes for sale should also include:
*your city + state abr* homes for sale
homes for sale in *your city*
homes for sale in *your city + state abr*
*your city* real estate
*your city + state abr* real estate
*your city* real estate for sale
*your city + state abr* for sale
real estate *your city*
real estate in *your city*
real estate for sale *your city*
all of the above with the state abbreviation
similar search phrases with subdivisions
similar search phrases with counties
Tailor Your Website Content to These Keywords
Once you have all those words organized in your keyword basket, it's time to optimize the pages of your site for these keywords. Use both long-tail keywords and short tail keywords in the most sensitive parts of your website: TITLE tag, URL, anchor texts, image ALTs, titles and the subheadings of blog posts.
You can also work on your META description, however it is no longer a ranking factor anymore. It's now rather the text that can be used by Google in your search result snippet; it can help you increase your CTR if you have made it descriptive and attractive enough.
To make sure you've done everything right, you can now run a quick SEO audit of your site with WebCEO's SEO Analysis tool. In fact, any new piece of your website content should always start with preliminary keyword research, then comes SEO copywriting, then comes an SEO audit.
Don't forget about internal links optimization because it allows your site users to find more relevant information in the easiest way. It helps to involve visitors deeper in your website and reduce your site's bounce rate.
Write client friendly content
Creating high quality, hyper-local content. After you have performed thorough keyword research and decided on some great keywords, develop content that targets those keywords. Some things to keep in mind:
1. Try to target each keyword on a single page. For example, if you are targeting both buyers and sellers, create one page for buyers, and another for sellers. This helps search engines better understand the focus of your content.
2. Be consistent. Consistent content creation keeps your website fresh and relevant, encouraging the search engines to crawl your site more often while also fostering your community.
If you don't have time to write your own content, hire freelance writers to take some of the work off your plate. Some of them may even have a real estate background
I would also suggest looking for someone locally because they will be more familiar with the housing stock and real estate market in your area. Be picky.
3. Use tools that add value to your site. People looking for real estate are often considering a mortgage. Perhaps you can point them to a suitable lender.
Better yet, consider adding a free mortgage calculator widget so that people don't need to leave your site.
When thinking through your pages design and content, think about useful tools and not just about the sales pitch.
4. Write about things people care about. Some people will bemoan the fact that real estate agents have no imagination and simply put up posts showing the newest house on the market. But is this a lack of imagination or wisdom? While it may be helpful to write about other aspects of your community, you are in the real estate game.
People don't come to your site looking for bus timetables or school carnivals. They come looking for property. Put yourself in the mind of potential buyers and sellers.
What are they looking for? What questions might they be asking? So, I advocate staying close to your target audience and staying on track with your subject. That said, mixing it up occasionally will not hurt your SEO. Here are some suggestions on occasional pieces you could do:
History of local architecture
Rich, famous or infamous local characters buying homes
New industry that might provide jobs to the area
Home, yard and landscaping related products or news
Local community events worth going to or worth mentioning
New neighbourhoods, complexes, or communities being built
Programs or home-buying assistance grants available in your are
Use simple, high quality images
Real Estate depends heavily on images. Make your images:
High Quality
Uniform in size
Uniform in position
Quick to load
Complete with descriptions, alt tags, dimensions and titles
And avoid redundant images. Make it easy for your site visitors to find images by putting them in the same place on every page.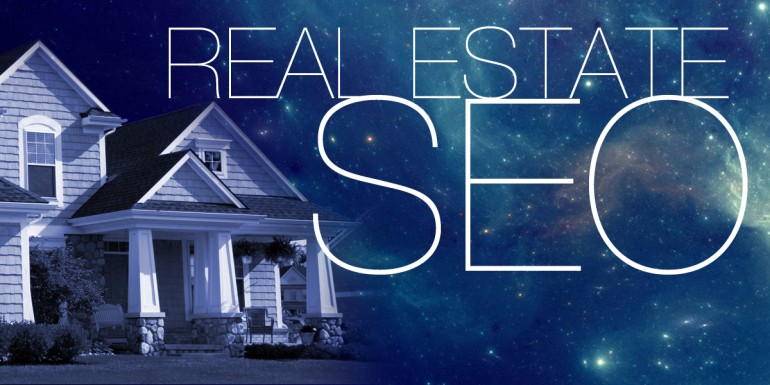 Link Building
The quality and quantity of back links that point to your real estate website is what shows Google that you are an authoritative source.  Their are different ways to get acquire back links, but it is very important to remember that all back links are not created equal.  The more authoritative and relevant the site linking to you the more powerful the back link.  If you have many spammy back links pointing to your website, that can actually be detrimental to your SEO.
Here are so many ways that you can create alot of backlinks

Guest Posting
Study Your Competitors Back Link Profile
Content Marketing
Social Media Syndication of Original Content
Citation Creation
Finding Broken Back Links From Sites You Want a Link From
Web 2.0 Sites just like PBNs
Buying quality backlinks
Back creation  is the single most important, and most challenging task of an SEO Agency or individual. Much of what is done in the content marketing process is done to have other websites link to that content.  So not only do you need content worth linking to, you need the process for getting that content in front of enough people to have them link to it.
Backlink Profile
For many years, backlinks were the foundation for a website's rankings. A strong backlink profile used to be the main focus for real estate website SEO, but lately there has been a decline in backlink relevance.
Today, backlinks are important but they are also just one of the many contributing signals when ranking a website. Looking forward, I expect to see a continued decline in backlink relevance in the coming years.
Just because backlinks are declining in relevance, though, doesn't mean you should ignore them. According to a study performed by SEMrush, there were 6 main factors of a backlink profile:
Number of referring domains
Number of follow-backlinks
Number of backlinks
Number of anchors
Number of referring IPs
Low keyword presence in the anchor text
Their study confirmed that the number of referring domains, follow-backlinks, backlinks, anchors, and referring IPs all had a direct impact on rankings. In other words, the greater the number of these factors, the higher the webpage ranked in the SERPs.
Also, note that spamming links to a web page is not an acceptable practice. Instead, create a natural link building profile using only white-hat link building techniques such as guest posting on relevant and high domain-authority blogs.
Keyword presence in the anchor text rarely occurs in web pages ranking in the top position. This is true in both high and low search volume keywords. Of all the backlink factors, this has the least effect on domain rankings. But, again, that doesn't mean you should ignore it.
In fact, if you want the best chance of ranking in Google, then pay special attention to all six backlink factors — not just the pretty few.
Keep your website up-to-date
Armed with keyword data, make appropriate changes to your website (including the Page Title, Meta Descriptions, headers and body copy). Incorporate target keywords that you want to rank for. Pages can be over-optimized for keywords, so it is best to write page titles and meta descriptions that are appealing to both search engines and users. Proper IDX integration can increase your traffic and boost your rankings as well.
____________________________________________________________________________________________
We provide the best quality backlinks as ever, pls contact us qualitybacklink.net@gmail.com ; Skype: qualitybacklink