How to earn money with url shorteners
URL shortening is one of the best ways to earn money online.You can earn money by just putting shorten URL links to different sources.As you can put these URL on any social media network like facebook, twitter google plus etc.
As time passed, URL Shortener Services became popular as they started paying people for shortening their URLs.
What are Link Shorteners and Why Might You Need Them?
The concept of link shortening is just like what it sounds like. You provide a full website URL to a link shortening service, then you are instantly provided with a short URL redirect that sends users to your requested site location. A good example of this would be if you were to share a link on Twitter with your audience. You will likely notice that the long URL you provided is quickly turned into a shorter URL redirect so it doesn't take up a lot of space within your Tweet.
This type of link shortening is automatically done through Twitter, but there actually several reasons what you might want to use a link shortening service for your own links or sharing on other sites, such as:
Saving space and making ugly long links look pretty. Yes, the most common reason for using link shorteners is to simply shorten very long links. This is especially true when using social media, as shown above.
Gain advanced tracking and statistics on your long links. Another great benefit to shortening links that you might be sharing in different locations is having the ability to track how many clicks you are actually getting, and from where.
Hide affiliate links and target URLs. Sometimes you want to promote an affiliate offer or link to another site with a referral ID, but you might not want that information to be public. This is a perfect example of why other site sites are using link shortening.
Linking to blocked websites and content through social media. Sometimes social networks like Facebook and Twitter block websites (for whatever reason). One method to get around this is to use link shortening services.
Making money with your links. In addition to each of the benefits above, site owners can also make money by using link shortening services to display advertising in between the visitor process, thus generating a new source of revenue.

How URL Shortener Works
Every time, when someone clicks on the shortened link, you will get paid. These URL Shortener Services or Websites can pay as much as $4-$5 for every 1000 visitors that you bring to your link. They pay you as you bring traffic to them. These visitors will probably become their new users and customers.
When a visitor clicks on the given URL, the Shortened URL will wait for 5 seconds and then it will be redirected to the original destination link. For these 5 seconds, URL Shortener service will display an advertisement. As 5 seconds or more (depending on service to service) is completed page is redirected to the original destination.
It is recommended to avoid using shortened URL on your website as it may irritate your visitors unnecessarily. Typically, you should use Shortened URL on forums, and social networking platforms such as Facebook, Twitter, and Google+.
Payment is made using appropriate payment methods that the websites are using such as PayPal.
Every URL Shortener Website or Service pays different CPM rates. The CPM rate also depends on the country from where people are opening the shortened links. So, the CPM rate you get depends on the URL shortener companies as well as different countries.
A good URL Shortener website can pay to their publisher anywhere from $1 to $10 per 1000 views on the shortened URL. They also provide a referral system wherein if anyone joins using your referral link then you will be entitled to receive up to 20% commission of their earning.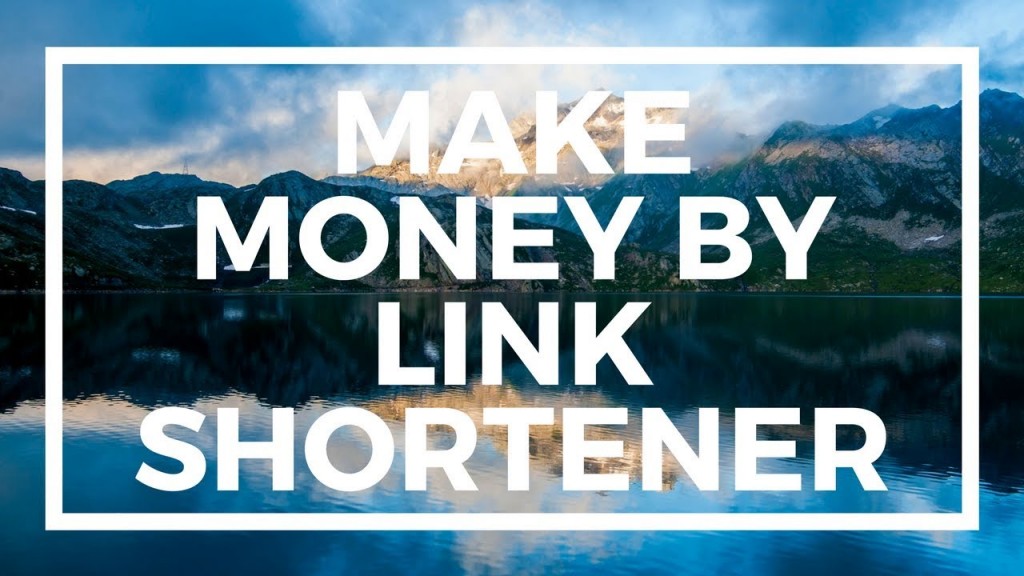 As mentioned in the many benefits of link shorteners above, the one that probably stands out the most is the concept of making money with your links. While not all link shortening services offer a monetization option, sites like Shorte.st, AdFly and LinkShrink are the most common sites that do.
The way link shortening services make money for users of their service is quite simple, and it goes something like this:
A visitor will click on the shortened link from your site or traffic source
An advertisement is displayed on an intermediate paid (this is how you earn money)
The visitor then has the option to view the advertisement or click over (skip) to their final destination
This type of advertising has many advantages for sites that are looking to push a lot of high-traffic volume away from their sites. Examples of these sites  are entertainment & gossip sites, file sharing, image uploads or any other high traffic site that is more focused on volume versus individual action.
How to Earn with URL Shortener
If you want to earn good amount with URL Shortener, then the best way is to share someone else post or article.
Find some of the popular sites like news sites or viral news site. Use their URL and shorten that URL with URL shortener services and share that article, news, trending topics, viral images, videos, etc with your URL.
You can share those trending topic on your social profiles, forum or social sharing sites. People love reading trending news and will click on your shared URL, and you can make money with it.
To know more about top websites of link shorteners, read at best link shorteners
____________________________________________________________________________________________
We provide the best quality backlinks as ever, pls contact us qualitybacklink.net@gmail.com ; Skype: qualitybacklink