Mysterious strategy for high quality link building
Backlinks are super important to get your site to rank higher on Google and other search engines. But before you shoot you need to aim. Do your research and find out how many backlinks your top competitors have. Then make a plan to match them using the following elements:
– Create content in several mediums on a variety of websites.
– Use outbound email campaigns to get many backlinks in a short amount of time
– Write guest blog posts that are both captivating and informative.
Remember, while creating backlinks to your blog, don't forget to check quality of that website, domain authority, trust score etc. Because if you will create backlink without checking these factors then it might be possible that you will create backlink from some of spammy website which can lead your blog to decrease ranking.
Don't make backlink of just home page of your website. You should also make backlink of your internal pages and posts. You should take care of anchor text while creating backlinks of another pages to rank on targeted keyword.
Creating quality backlinks is only way to improve your blogs ranking and getting organic traffic. In this post we will share so many proven ways to get quality backlinks to your site.
Write a guest blog post
This is one of our favorite strategies to get backlinks. The best part about guest blogging is that you can write about yourself without appearing promotional, just by simply describing a good marketing strategy or some experiment that you've done.
If your piece is super interesting then people will come to your site and check it out. That's the idea.
Ideal pieces contain:
– 1500-2500 words
– actionable tips, tools, and strategies
– contain data
But what if you don't have the team or the time to write a bunch of guest posts?
Double down on other content mediums.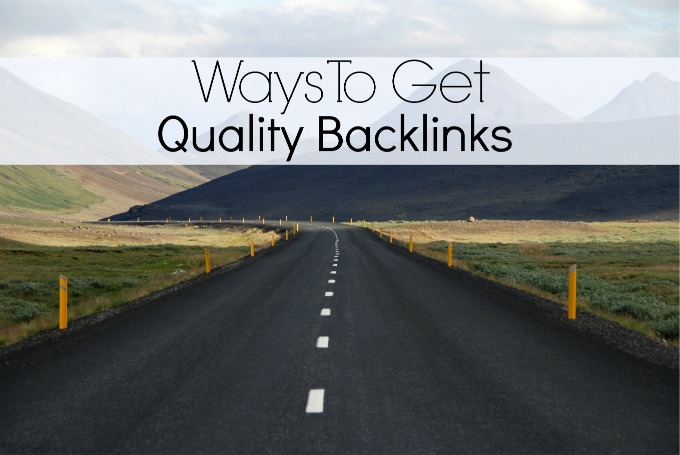 Comment on similar Niche blogs
Comment on your similar niche blogs and make sure these blogs are related to your own blogs. It will still be beneficial for overall link-profile of your blog.
This method is known as creating backlinks by commenting on blogs. But some people will use it without knowledge and guidance.
You should only comment your blog's link to DoFollow blogs because it passes link juice to your blogs otherwise search engine will skip it or ignore it. Also only comment on relevant blogs otherwise you will get spammy backlinks and it is harmful for your blog.
Write some "viral" content
One of the best ways to "game the system" and get a bunch of traffic and engagement is to create content that goes viral. That involved learning the algorithms of search engines and various social media channels and hacking it. One of my favorite examples of this is Josh Fechter's strategy to hack LinkedIn – which got him over 25 million views on his posts.
It's really not as hard as it sounds.
Here are some examples:
LinkedIn – only put links in the first comment, don't write in paragraphs and get as personal as possible.
Facebook – long-form posts are doing the best, boost them whenever possible.
YouTube – make your thumbnail stand out and go for longer videos. For more tips check out the video below
Submit Your Blog to Top Blogging directories
Just submit your blog to quality blogging directories. There are many directories like Dmoz which provides whole lists of sites in various category. These directory have high authority. You should submit your website or blog to their directory and you will get one quality backlink from there.
Social bookmarking
Social Bookmarking is considered as backlinks and you should target following network: Google plus, Twitter, Facebook, Pinterest etc.
Google will improve your ranking by checking social signals of your website. Sharing your website on social networking websites will help you to improve your likes, comment, shares, tweets, mentions etc. and it will improve your overall ranking and authority.
Post on Dedicated or Short-term events
Short-term or event blogs means blogs for specific accident or event.
Every year on events like Christmas, New Year, etc. will get higher search volume of people who are searching wishes, quotes, images etc. and these searches are for specific time like 4-5 days. If you got ranking on these kind of blog, it will generate high traffic as well as revenue in very short time. These are some of methods that will help you only for getting short term ranking. You should not use these method for long term.
Start only Relevant Threads in Forums and Link to Your Blog Posts.
Link your Blog in Your Forum Signatures (Only in high quality forums). Network with other bloggers in your niche (Online and offline) and links will automatically follow you.
If you want ranking for specific domain then you must need quality backlinks from similar blogs in your category. Suppose if you are ranking with event like Christmas then, first of all you need EMD (Exact Matched Domain) and need backlinks from similar blogs to keep base ranking and you can use other ways like blog commenting, answering in forums as second task for ranking.
Generally short-term blogs gets most of traffic from social websites and google. They get very low traffic directly to their website. So social sharing will give referral traffic and it will also improve your social signal and ranking.
Answer Questions & provide your input
There are quite a few online forums on that you could contribute, like:
Quora
Stackoverflow
WordPress forums
+ some of your favorite sites
Answering questions that have solution on your blog will improve your traffic through StackOverflow, Quora, WordPress Forum and Yahoo answers users.
Because all these websites are high authority and it will improve quality traffic and ranking to your posts.
Write high quality content
This one is my favorite and essential part of my site.
High Quality article on your blog will leave a good impression on reader's mind. In other words, Quality content is heart of your blog or website to stay in market for long time.
Suppose if you get good ranking but your content is not good then user will spent less time on blog and it will increase bounce rate on your blog. You might lose trust score and ranking.
High quality article will make users fall in love with your website. It might be loved and mentioned by other website owners. They will put your link in their article for better understanding of their topic. So, you will get strong backlinks from them as well.
Submit your blog to .edu and .gov forums and blogs
Google so much loves backlinks from this sites and regards them as authority backlinks.
To rank higher on SERPs and increase your website's authority, you should try to get backlinks from .edu and .gov TLD's domain.
Google loves these domain names and they consider them as high authority websites. .edu is considered as educational website and .gov is considered as government website. So, creating backlinks from them will rank you higher in any conditions in SERPs.
____________________________________________________________________________________________
We provide the best quality backlinks as ever, pls contact us qualitybacklink.net@gmail.com ; Skype: qualitybacklink